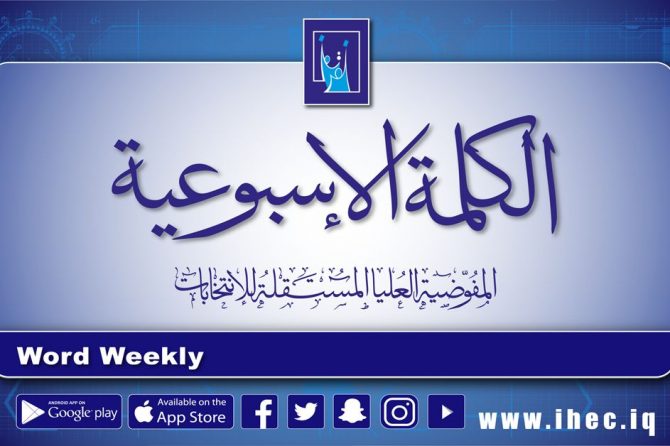 Number: 48
 Date: –   10 / 3/2021
Weekly Statement
As the pace of the Elections Commission's work increases , the Board of Commissioners has approved the procedures for general voting, Sorting and counting using accelerator results, taking into consideration the recommendations of the United Nations Office of Electoral Assistance (UNAMI) and the International Foundation for Electoral Systems (IFES), according to the legal framework which organizes elections according to the (open list) system, and the individual nomination according to the Elections Law No. 9 of 2020, according to which Iraq became (83) an electoral district.
 In the same context, and within the Technical preparations of the Commission for the polling day, it was approved to send samples of ballot papers of the public and private voting to (MIRO, the Korean company which manufactures the verification kits and the electronic acceleration results devices); for the an experimental simulation of the voting process in the presence of the auditing company, as there will be a ballot paper for each of the (83) constituencies.
On a related level, the Board of Commissioners approved the mechanism proposed by the Operations Directorate and Information Technology Department of the Commission – which is technically responsible for data-entry of the polling results – to choose the data entrants of the results, settlement and matching forms of more than (58,000) polling stations.
As for polling staff, the Commission is working on preparing a mechanism to select polling staff from the government bodies by coordination with government ministries in order to cooperate and contribute to the next electoral event.
On the other hand, the Commission continues vigorously and willingly to update, register and distribute biometric cards, in addition to keep on the registering the political alliances and receiving lists of candidates.
 In order to expand effective electoral participation through electoral education and awareness, the Commission participates in educational seminars of electoral dimensions which included an explanation of the mechanism for receiving candidate lists, the time period set by the commission, candidacy conditions, procedures regarding lists of candidates, as well as how to ensure the safety of voters inside and outside the polling center.
 Determining the ability of the IHEC staff to achieve the goals of the institution in conducting successful and fair elections; is done through continuous follow-up of the chairperson and members of the Board of Commissioners  and the CEO (Chief Executive Officer) on the update on the work carried out by the departments and divisions in the national office and the electoral governorates offices, to discussing the operational schedule and timings for each stage of the electoral process In order to evaluate the work and then evaluate the progress of the process according to its stages and the extent of progress in the achievement.
Spokesperson's office
10, march, 2021