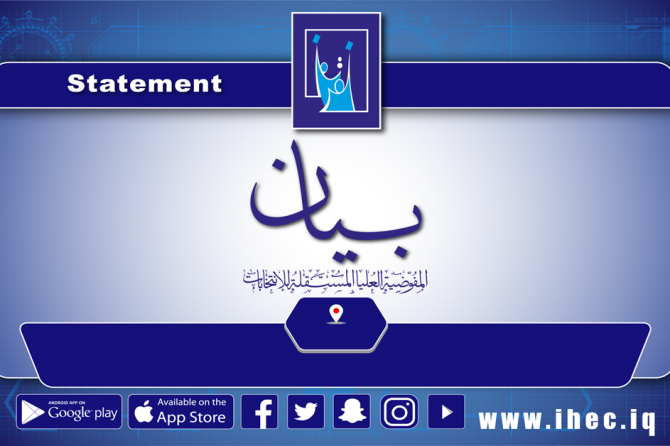 IHEC (The Independent High Electoral Commission in Iraq), and via its departments, continues the final preparations for holding the elections on the scheduled date (10th October , 2021), and we have to clarify an important thing, so we obliged to clarify that the Board of Commissioners with its independent Judges; has took in its considerations all the consequences and criticism that have been raised by the Iraqi people concerning the work of the commission In previous periods; by depending on the principle of fruitful frankness and being straight-forward in undertaking all of the procedures of the Council of Representatives election's stages as in the phase of updating the voter register, the phase of registering parties & candidates for the elections, and finally by following the method of direct conversation with the national figures and relevant institutions in the country.
IHEC began to engage with representatives of the audiovisual media, then starting communications with those who got a strong impact on the public opinion, professional unions, and syndicates.
The electoral commission extends its thanks to the Iraqi youth born in (2001, 2002, 2003) who responded to the call of our electoral offices to register their data biometrically. As half of the numbers eligible to vote in these elections, were responded.
Hence, IHEC is working hard and keening to complete the anticipated elections with a high level of transparency and integrity. The GEOs are now focusing on providing all means to achieve the success of the elections, and gain the trust of the Iraqi people and their national strengths.
In this context, IHEC announces its full readiness for the deadline of the (10th October), as this election is of great importance for its impact on the overall situation in Iraq.
As for the issue of electoral security in its various aspects; It is one of the major responsibilities of the government, which it has employed all the efforts of ministries and relevant authorities to achieve security and provide the appropriate atmosphere for holding the elections; on the base which the Supreme Security Committee for Elections was formed, as stipulated in the presidential order with No. (35)
Board of Commissioners
22, May, 2021
اترك تعليق