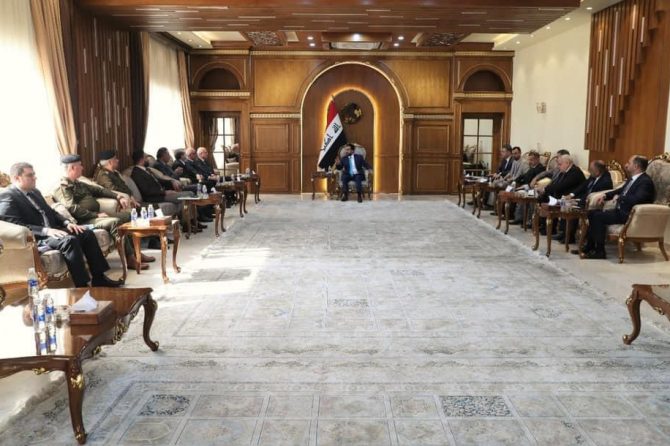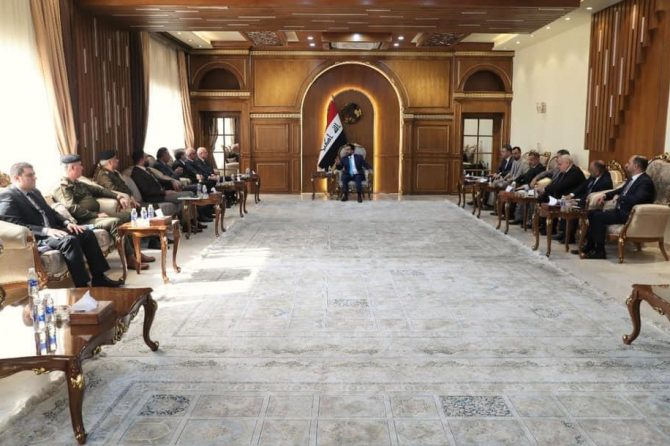 In a joint meeting between the Chairman of the Board of Commissioners of IHEC, the judge Mr. (

Jaleel Adnan Khalaf

), and his Excellency Mr.(

Muhammad Al-Halbousi

), President  of the Iraqi Parliament House . The meeting was hold on Tuesday 9/2/2021, and was attended by the members of the Parliamentary Legal Committee and the Ministers of Higher Education and Scientific Research, Education , The deputy of the minister of the Interior, and two representatives from the accountability and justice body ,  and integrity body.
The chairman of BoC has presented in this meeting the most prominent work and procedures accomplished by the Commission according to the technical operational schedule for conducting the next parliamentary elections, stressing the intensification of efforts to complete the biometric registration processes for voters and the distribution of the biometric voters card to the voters inside and outside Iraq , and to the IDPs voters, as well as giving sufficient time to register Political alliances and candidates. Reaffirming the Commission's commitment of conducting fair and just elections, despite the challenges of the current stage.
 On the other hand, the President of the Iraqi House of Representatives urged the relevant authorities to provide full support for the work of the Commission in order to conduct the electoral process and make it success, stressing at the same time the need for government institutions supporting the IHEC such as the (Accountability and Justice body, Criminal Evidence, Integrity Commission, Ministry of Higher Education And scientific research, the Ministry of Education) as the job of these bodies is concerned with checking the position of the safety of the names of the candidates of the elections and verify the extent of their compliance with the conditions for being nominated or not.
The chairman instructed to form a joint operations room with the Commission; To facilitate the procedures for verifying the validity of the names of candidates nominated for elections to check if the candidates met the conditions of nomination or not , and to response to the Commission's inquiries within a period not exceeding (15) days, each authority according to its competence, away from red tape and administrative complications.
Spokesperson's Office
اترك تعليق