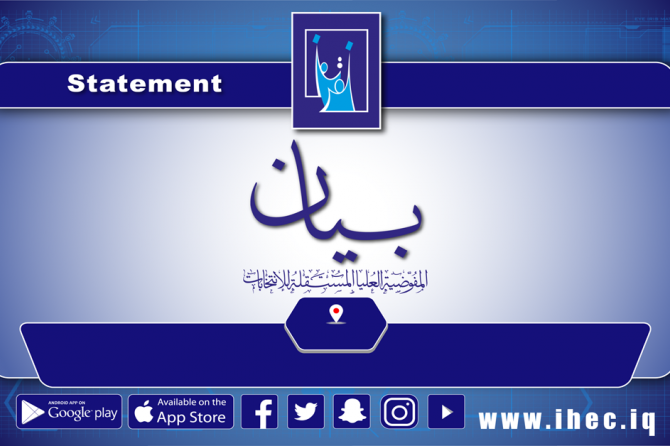 The Independent High Electoral Commission issued Ministerial Order No. (59),which included ending the assignment of some employees of the Nineveh governorate Elections Office from the tasks entrusted to them and assigning other employees to complete the implementation of those tasks.
With great sorrow, some political parties expressed their objection to this ministerial order without any legal and constitutional justification for the objection, and even attributed these changes to political impacts on the commission.
While the Commission affirms its complete independence the evidence, is its performance, in which it continues its steps with confidence, in addition to the testimony of many fair people, it firmly denies the existence of such impactsand stresses that making administrative changes and ending the assignment of employees and assigning others; are among its exclusive powers based on the Iraqi Civil Service Law No. 24 of 1960 as amended; and theCommission Law No. 31 of 2019.
The Independent High Electoral Commission would like to make it clear to the public opinion and the Iraqi people looking forward for a free and fair elections; that the Board of Commissioners which consisting of independent judges; welcomes any opinions and observations that would enhance the independence, effectiveness and improvementof IHEC.
However, the objection or interference of some parties in the administrative and procedural work of IHEC; considered as a dangerous precedent that contradicts the law and the principles of the independence of IHEC and the privacy of its work, and these practices expose their perpetrators to legal accountability.
The Commission had previously issued ministerial orders similar to the ministerial order referred to in the governorates of Erbil, Kirkuk, Wasit and Diwaniyah, as such changes are administrative procedures done due to the independent & professional judges of the Board of Commissioners, to serve the work and public interests. All Commission's staff is under test through tasks assigned to them and they aresubject to periodic estimation so that the most qualified is selected or assigned to other tasks.
It would have been better for those objecting parties to refrain themselves from interfering in this way in the work of IHEC and challenging its independence, but rather to support it in carrying out the required reforms to serve the electoral process, and that the BoC of IHEC,which is represented by its chairperson; has absolute jurisdiction over all the (GEOs) Governorate Electoral Offices of the Commission under the powers granted by law;Enable him to evaluate and develop the institutional performance of IHEC and all its GEOs throughout Iraq.
Board of Commissioners
7/31-2021
اترك تعليق